Best Fall Hike in Sedona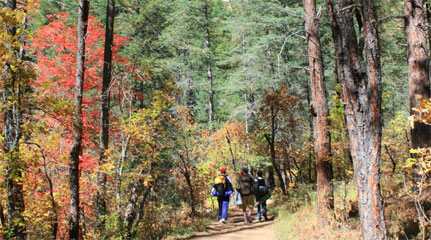 A favorite fall hike is the West Fork Oak Creek trail. Due to the Slide fire in 2014, the density of the trees may be slightly less than usual, but it's still the best trail to enjoy the gold and crimson leaves of fall along Oak Creek. You'll be walking between the gently flowing Oak Creek stream and the steep walls of the canyon, while surrounded by the fall colored leaves chattering in the wind. This truly a beautiful and magical place, so please take extra care to not litter.
Directions from Sundial Rec Center
Meet at 6:am in parking lot next to the Mini Golf
Rte. 17 North to Rte. 179 to Sedona about 1 ½ hrs. In Sedona take Rte. 89A North through the town, and along the Oak Creek, past Slide Rock Park, about ½ hr. to the entrance of West Fork on the right. $11.00 parking fee, opens at 8:00.
What to Expect and what to bring! This is a relatively easy scenic walk, 3 miles to the end and 3 miles out. Bring a knapsack to store snacks and water, camera gear etc. Wear good hiking shoes or sneakers, they might get wet crossing the creek in different parts of the path. A walking stick is an option. Hike as far as you like, the colors are changing, the water holds beautiful reflections, wildlife deer and other critters.
Lunch at Indian Gardens at 1:00, located on 89A on the return, apex 15 min from WFOCC. A beautiful fun outdoor restaurant, indoor if it's too cold. And more photo ops across the road.
Sign up on the Web site or call Linda Johnson 607.232.2025